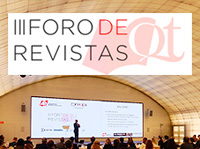 El pasado 28 de octubre se celebró la tercera edición del Foro de Revistas ARI-Coneqtia, un desayuno al que asistieron los principales editores de revistas B2B y B2C del país, junto con anunciantes, agencias y profesionales del sector. En esta ocasión la ponencia corrió a cargo del prestigioso experto internacional Samir, 'Mr. Magazine™' Husni que presentó la ponencia: "Audience First: The Marriage of PRINT and DIGITAL".
Samir Husni es Doctor en periodismo por la Universidad de Missouri-Columbia, profesor en la Universidad de Oxford y fundador y director del Centro de Innovación de la Revista de la Universidad de Mississippi. Ha trabajado como consultor para empresas editoriales en todos los continentes, es autor de numerosas publicaciones sobre gestión e innovación en revistas y edita, desde hace 29 años, la Samir Husni's Guide to New Magazines (www.mrmagazine.com).
Mr. Husni compartió con los asistentes su visión sobre el presente y el futuro de las revistas, dejando un mensaje de optimismo y mostrando numerosos ejemplos muy didácticos. Insistió en que los editores deben poner en el centro de la estrategia a su audiencia, dejando en segundo plano a los distintos canales, ya sean impresos o digitales. Con este objetivo recomendó a los profesionales humanizar las marcas, construir contenidos "adictivos" para los lectores y reinventarse de forma constante, en estos años de cambios constantes que está viviendo el sector en todo el mundo.
El evento se celebró en el Auditorio de la Casa del Lector (Naves Matadero) de Madrid, pero también pudo verse en streaming y comentarse en Twitter a través del hashtag #IIIForoDeRevistas. Es posible ver el evento en diferido AQUÍ.
https://www.coneqtia.com/wp-content/uploads/2020/10/post-foro-2.jpg
149
200
Coneqtia
https://www.coneqtia.com/wp-content/uploads/2020/10/logo-coneqtia.svg
Coneqtia
2014-11-04 00:00:00
2020-10-19 15:07:22
Resumen Foro de Revistas ARI-Coneqtia