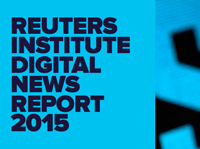 El Reuters Institute for the Study of Journalism, con sede en la Universidad de Oxford (Inglaterra) ha presentado recientemente la cuarta edición del Digital News Report. Traking The Future of News. Este estudio, basado en una muestra de 20.000 consumidores de noticias de doce países (Reino Unido, EE.UU., Irlanda, Alemania, Francia, Italia, España, Dinamarca, Finlandia, Brasil, Japón y Australia), analiza de forma detallada multitud de aspectos del consumo de noticias digitales.
Entre otras conclusiones destacan:
– Aumento de la tendencia a consumir noticias en smartphones (un 25 % de los encuestados y un 41 % de los menores de 35 años).
– Se acelera el ritmo de crecimiento del uso de las redes sociales como fuentes de información.
– Uso de WatsApp para consumir noticias: 27 % en España, 34 % en Brasil, 1 % en USA.
– El pago por contenidos digitales sigue siendo difícil: un 6 % en UK, un 11 % en España y un 14 % en Finlandia.
Es posible descargar el estudio completo aquí.
https://www.coneqtia.com/wp-content/uploads/2020/10/nl33-4p.jpg
149
200
Coneqtia
https://www.coneqtia.com/wp-content/uploads/2020/10/logo-coneqtia.svg
Coneqtia
2015-07-20 00:00:00
2020-10-19 15:07:20
Crece el consumo de noticias en smartphones. El pago por contenidos digitales sigue siendo difícil