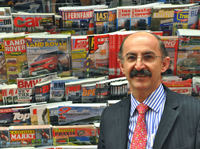 El próximo 28 de octubre se celebrará en Madrid el III Foro de Revistas, que contará con la participación de Samir "Mr. Magazine™" Husni, una autoridad mundial del medio revista, que presentará la ponencia "Audience First: The Marriage of PRINT and DIGITAL"
Samir Husni es Doctor en periodismo por la Universidad de Missouri-Columbia, profesor en la Universidad de Oxford y fundador y director del Centro de Innovación de la Revista de la Universidad de Mississippi.
Husni ha trabajado como consultor para empresas editoriales en todos los continentes, es autor de numerosas publicaciones sobre gestión e innovación en revistas y edita, desde hace 29 años, la Samir Husni's Guide to New Magazines (www.mrmagazine.com).
En los próximos días todos los socios recibiréis una invitación personal al Foro. Si alguno de los editores tiene interés en mantener una reunión con el Sr. Husni para conocer sus servicios de consultoría, es necesario ponerse en contacto con ramon@coneqtia.com para poder organizar la agenda.
¡Nos vemos en el Foro!
https://www.coneqtia.com/wp-content/uploads/2020/10/3erfororevistas.jpg
149
200
Coneqtia
https://www.coneqtia.com/wp-content/uploads/2020/10/logo-coneqtia.svg
Coneqtia
2014-09-26 00:00:00
2020-10-19 15:07:22
III Foro de Revistas